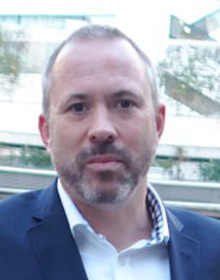 Mark Pollard
Mark has worked in the cleaning industry since 1994 starting in a junior sales role working his way up to board level for two of the UK's leading Cleaning and Support Services companies before founding Turquoise Cleaning with Brad in 2009.
Mark's aim for Turquoise Cleaning is to build supplier client relationships, cut through the red tape and most importantly recognise the brilliant staff who work for us which he believes is often not appreciated by so many other leading cleaning companies.
Outside my work I have a close family and a big passion for sport. Since giving up rugby I now spend my spare time doing all sorts of endurance challenges for charity particularly running and swimming. So you can normally find me training somewhere for a marathon, running across desserts or swimming across continents and oceansMark
Brad Collings
Following on from a Military background, Brad joined the cleaning industry in 1992 and has worked as a Director for both large National companies and smaller family run businesses. Working on a wide range of contacts from Royal Palaces and households to Southerby's and Abbey Road Studios.
Brad's aim it to ensure Turquoise Cleaning delivers a high quality service and grows through recommendations and gaining a reputation for delivering high standards of service and commitment.
I enjoy spending time with family and friends and really enjoy sport. I represent Great Britain in Dragon Boat Racing as well as doing some outrigging and getting down the gym. I am founder of a Dragon Boat team for ex-military personnel with injuries and impairments, who will be competing against ex-services from abroad as well as able bodied teams in the UKBrad
Meet The Team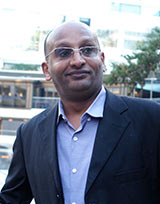 Sami Bassam
Sami has been with us since the beginning in 2009 starting as a cleaning supervisor before being promoted to area manager in 2012. He is incredibly hard working and we often wonder if he ever sleeps as he is so often working with his cleaners at night and clients during the day. Sami manages our business in the City and North London. Outside work Sami is a family man with 5 children.
---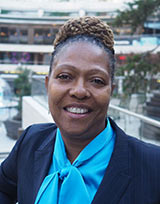 Janette Clachar
Janette originally met Mark and Brad working for their previous company OCS back in 1998 before joining Turquoise in 2013 as area manager for the South of England. With over 30 years experience in the cleaning industry it's no wonder Janette works so well with her clients and staff. She had been an integral part in growing our business. Janette has 3 grown up children and one grand son and outside of work enjoys family holidays back to the Caribbean.
---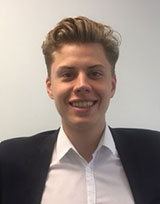 James Pollard
James is the newest member of the Turquoise team joining as an Area Manager in 2017. He is responsible for our sites in Heathrow Airport and West London. James is very easy to get along with and always keen to support his staff and clients. Outside of work James follows all sport especially when England play and you can normally find him most weekends hacking around a golf course.
---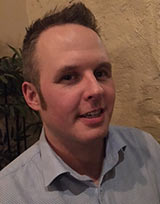 David King
Our north area manager joined Turquoise in 2015 as a 'game keeper turned poacher' as David was formerly a client of ours. He must have been impressed with our service! David has been an excellent addition to our company not only sustaining a quality service but growing the business throughout Scotland and Northern England. David is married with a son and young daughter and is a keen fan of Edinburgh football team Hearts.
More of Our Staff
---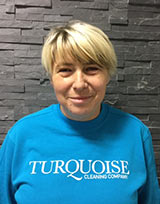 Beata Kucia
Beata has been employed for us since the very beginning working at Gatwick Airport since 2009. She began as a cleaner at M&S and now supervises all our operations at Gatwick airport. Apart from her excellent working standards she is very friendly and approachable and our clients think she's brilliant as we do as well.
---
Peter Jide
Peter joined Turquoise Cleaning in 2012 working as a cleaner in a gym. He now works for us at various sites in Liverpool Street as our night supervisor. He's very popular with his colleagues and clients and an integral part of our team.